Charley Reeves
Tuesday, December 22, 2015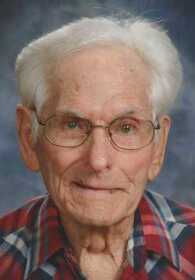 HARRISBURG - Mr. Charley Everett Reeves, 102, died Saturday, Dec.19, 2015 at the family residence in Harrisburg. Mr. Reeves was born June 1, 1913 in Lott, Tex. and lived his lifetime in the Harrisburg area. He was a farmer, bus driver and helped people with odd jobs, veteran of U.S. Army and World War II, and a member of Pleasant Hill Baptist Church. He was preceded in death by his wife, Maxine Stewart Reeves; one grandson; five brothers; two sisters; his mother, Ella Jane Landrum Reeves; and his father and step-mother James T. and Isabell Fryer Reeves.
Mr. Reeves is survived by one daughter, Charlene Reeves Smith of Harrisburg; one son, Charles Wayne Reeves of Nathrop, Colo.; one half brother, Bobby Dean Reeves of Mission, Tex; four grandchildren; four great-grandchildren; and one great-great-grandchild.
Funeral services were Dec. 23 at Pleasant Hill Baptist Church with Rev. Gary Brown officiating. Burial followed in Nettleton Cemetery in Jonesboro with Thompson Funeral Home of Trumann in charge of arrangements.
An online guest book can be signed at www.thompsonfuneralhome.net.