Carver Gym discussed at town hall meeting prior to council meeting
Thursday, December 24, 2015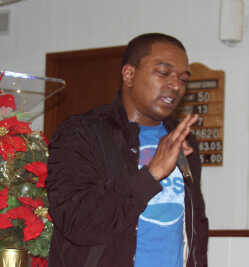 Chants of "Save Carver Gym" rose up several times Sunday night during a packed town hall meeting held in St. John Baptist Church. The George Washington Carver Alumni Association (GWCAA) hosted the meeting the day before December's Marked Tree City Council meeting to discuss what is going on with Carver Gym.
The city council has been discussing Carver Gym since closing it in April after they saw how much the gym has deteriorated over the last few years from water damage. The gym is the last remaining structure from George Washington Carver School, which served as the school for Marked Tree's black community prior to integration. The city council's discussion had centered around renovating the gym or building a new one until October when a third option--tearing down the gym and replacing it with a park--was presented to the council. Since then, there has been a sense of urgency from the Carver Gym community to make sure the gym is not torn down. This determination saw its culmination in this week's town hall and city council meetings.
GWCAA president George Chester Dial led the town hall meeting. "Our parents and grandparents helped build this city. Did they not invest in this city? So why can we not see a return on that investment?" she said. One of Dial's major issues with the situation was that when the Carver Gym discussions first began, the council talked about renovating or building a new gym, but then the third option to tear down the gym and build a park was added.
Several other community members spoke, including Jason Whitfield, an Army veteran and Marked Tree native who returned to the city in 2006. Whitfield said he lived across the street from the gym. One of his issues with the gym is the fence that was put up years ago. "If you drive by, it looks like a county jail," he said. "A cage is for animals. My son, our kids, none of them are animals."
"This is part of us," Whitfield said. "Carver Gym has more history than just about everyone in this church. The school burned down, and they didn't do anything about it. I look at Carver Gym, and it looks like watching someone die."
Rev. Jimmy Johnson spoke about faith and all the generations who played in the gym. He also spoke about the need for the whole city to work together. "When we played, we represented Marked Tree, and we did it together. Black and white together. That was the only way we could win. We did it together." Johnson said once the gym is repaired, everyone has a duty show the same intensity they have now to make sure it is maintained. He also said the community would need to do whatever it took to save the gym without violence. "I oppose any violence, but there is power in unity," Johnson said.
Dial spoke about various estimates the city has gotten on the gym. One estimate, from Burr & Cole Consulting Engineers, listed renovation at $165,014 and a bare-bones metal building to replace the gym at $336,000. Another estimate from Little & Associates Architects listed renovation at $553,280 and a new gym at $948,480. When the council was presented the three options in October, it was the Little & Associates estimates that were presented. "Why is this bid being put out in the public when we have one for $165,000?" Dial said.
Dial listed the GWCAA's goals as:
*form a new committee to work with the council on restoring the gym with committee members picked by the GWCAA.
*form a board in Marked Tree to oversee the gym once it is restored.
*have GWCAA file for 501(c)3 status and apply for grants for improvements and programs for the gym once it is restored.
"Once we get it restored, we've got work to do," Dial said. "We're just asking for the right thing to be done."
The complete article can be read in the Dec. 24 edition of the Poinsett County Democrat Tribune, which can also be read online at: http://poinsettcountytribune.ar.newsmemory.com/