Northeast Arkansas broadcast pioneer DeWitt Waites dies at 87
Saturday, December 26, 2015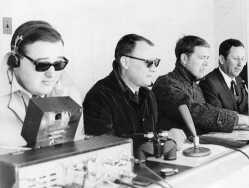 Special to the Democrat Tribune
(Editor's note: This is part one of a special two-part tribute to DeWitt Waites.)
One of the most prolific and friendliest radio personalities from the early days of radio in Northeast Arkansas has signed off the air for the last time. DeWitt Waites was known as the voice of the Arkansas State Indians during most of the 1960s football games with his unique style of broadcasting on the Indian Football Network originating from KASU-FM on the campus in Jonesboro.
Waites died Friday, Dec. 18, at the White River Medical Center in Searcy.
A native of Hot Springs, Waites began his broadcasting career at KBHS in his hometown of Dierks, Ark. He later worked at radio stations in Little Rock, North Little Rock, DeWitt, and Trumann, but he was best known as the station manager and part owner of KPCA-AM 1580 in Marked Tree.
KPCA started as KTML in 1956 when Memphis legends Sam and Dewey Phillips opened the station with Roy Orbison entertaining for the ground opening as a teenager before his first record had even been cut. Wearing dress slacks and a short sleeve flowered dress shirt, Orbison was without the black hair and black eyeglasses that became his trademark symbol. He played a song that would be released later that year, "Ooby Dooby." The next year, the station was sold to a group of local businessmen, and the name changed to KPCA. The station signed-off permanently in the early 1990s.
Waites made radio a personal experience through his homespun comments and an unusual way of involving ordinary citizens in his broadcasts.
In Marked Tree, he started a two-hour radio show each weekday afternoon in which he ad-libbed the entire show every day. Instead of a script, he chatted about the people he'd seen at local businesses during the day, kids involved with sports programs, and most significantly those who drove by his portable office with a desk and a chair and often a tractor umbrella set up close to Liberty Street that ran by the station.
He recognized most people from the vehicle they drove, or he would ask them to stop when they came back by to tell him who they were.
Jonesboro broadcaster Trey Stafford, who credited Waites with getting him started in the business, said the show called the "Road Show" was so popular, fans would drive by just to hear their name on the radio. He also said his Dad, C.P. Stafford, a World War II veteran who operated the Tyronza Lumber Company in nearby Tyronza, passed by on Highway 63 on his way home every day from work and Waites recognized his vehicle and told his elementary school teacher wife that her husband was on his way home.
He also knew who was driving local utility vehicles and even school bus drivers and mentioned their names as well.
In fact, it was during a spin-off show during one of Waites' ventures at bigger radio that the nine-year-old youngster brought by his grade school news and was surprised when he was asked to read it himself. When Waites returned the next year, he put Stafford to work as a disc jockey, not just a newsman.
Stafford is probably the best example of Waites living legacy--the hundreds of young people who have worked for him and gone on to achieve unbelievable accomplishments for representatives of small town Arkansas.
After spending his high school years on the air, Stafford became KPCA's general manager in 1979 and later became a Jonesboro radio personality, which developed into his stint at KAIT-TV as a weather personality. At KAIT-TV, Stafford married news anchor/reporter Jenna Newton, and they now have a houseful of youngsters, including a daughter and triplet boys.
Stafford managed a Paragould radio station which led to owning and creating a chain of various format radio stations in Jonesboro. He is now the dominant broadcast personality in Jonesboro and recently celebrated his 40th year in broadcasting.
Recently Stafford's company was given the prestigious Betty T. Sloan Promotion Award by the Jonesboro Chamber of Commerce. After receiving the award, Stafford remembered his former "boss" in his comments:
"I watched DeWitt and the way he ran that radio station in Marked Tree and the way he worked in that community. He knew everybody. Everybody knew him. He made it a point to know everything that was going on in town. When he saw an opportunity to help someone, or a group, or a club, or a church, or a school, he helped. When he saw a chance to help an event or be a part of a festival, he did. When the weather got bad, he made sure the radio station was on the air talking about it. He took the Communications Act of 1934--charging radio stations to 'serve their communities in the public interest'--to the highest level.
"When I began my role as a general manager, the way DeWitt did it was the only example I had. So I did it like he did. His example 'if you super-serve your community, the rest will take care of itself' was the only way I knew to do it. That's the way I've led our group to be for the 36 years that I have been a general manager.
"My love for radio started in that radio station in Marked Tree. All of the hours I stood watching and learning," Stafford said after learning of Waites' passing. "I am thankful to DeWitt for not running this kid out of the radio station."
(Next week in part two, Stafford and Lawson will take a look at some of the many people Waites influenced throughout his career.)