Junior Lady Hornets sting Westside
Sunday, December 27, 2015
Harrisburg (5-5, 2-1 4A-3) jumped out to an 8-2 lead after the first quarter and cruised to a 37-15 win over Westside last Thursday in girls' junior high basketball action.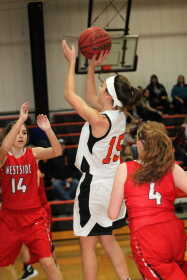 Destany Lovell opened the scoring with a jumper in the lane for the Junior Lady Hornets followed by a steal and lay up from Ansley Wixson making it 4-0 Harrisburg. Westside scored a basket down low before Kristin Vanaman got inside for a score to make the score 6-2 Junior Lady Hornets with 2:16 left in the quarter. Vanaman scored a lay up off the fast break to make the score 8-2. The quarter ended with the score the same.
Pick up a copy of the December 24 PCDT for full game story!