DeVries scores 30 in win over Westside
Sunday, December 27, 2015
Kylie DeVries scored 30 points in helping lead Harrisburg (8-2, 3-0 4A-3) to a 64-37 win over the Lady Warriors last Thursday night in Harrisburg.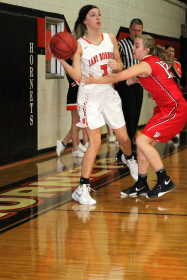 Harrisburg got three straight baskets from Jessica Webb to start the game in taking a 6-0 lead. Westside scored inside to make it 6-2 before DeVries got a steal and lay up to make it 8-2 Lady Hornets. The Lady Warriors were good on a three-pointer making it 8-5 only to see DeVries hit a jumper to make the score 10-5 Harrisburg with 2:38 left. Emily Armstrong drilled a three-pointer from the left wing, DeVries connected on a three-ball from the right wing and Webb put back an offensive rebound to make it 18-5 Harrisburg after one.
Full game story in the December 24 edition of the PCDT!