Waites helped launch many careers
Thursday, December 31, 2015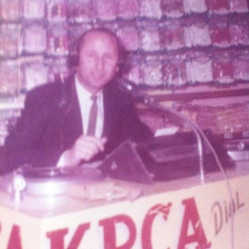 (Editor's note: This is part two of a special two-part tribute to DeWitt Waites.)
There were many other successful individuals who launched their careers in the news and entertainment business through DeWitt Waites, who passed away Friday, Dec. 18.
Johnny "Jay" Bolin left KPCA in Marked Tree in the 1960s to begin a lifelong career at WREC-AM in Memphis and later became news director there and with their FM and TV sister stations.
A younger Waites' protégée--Ralph Walker, Jr.--also spent time at Memphis' WREC-FM before landing TV production jobs in Little Rock, Nashville, and Denver before ending up in Atlanta with the Turner Network where he was involved in the massive undertaking of digitizing and colorizing hundreds of black and white classic movies as well as producing original TV shows. He now is in Nashville at the Country Music Network.
Gordon Davis was one of the early high school boys chosen as an afternoon disk jockey. While many expected the popular teen to grow up with a career in broadcasting, he instead spent a tour of duty in Vietnam, became a physician, and spent the last 40 years as a gynecologist.
But his younger sister Sara did follow in his footsteps, and after a stop in Marked Tree, spent 15 years as a popular disc jockey in New Orleans at WNPS and later in Beaumont where the Big Bopper worked before his fatal plane crash with Buddy Holley. She moved to Dallas where, after a stint in radio, she earned a Master's Degree in English and taught high school and college English until her recent retirement.
Dale Sanders worked his radio stint at KPCA but took an interest in the engineering side, became a pilot, and since 1996 has been Director of Operations at Alpine Power Systems in Millington, Tenn. After hearing of Waites' death, Sanders remembered one of the lighter moments while working as a youngster at KPCA. "During the Cardinal games, we'd go out back, One guy would throw records into the air, and the other would shoot them with a shotgun. I guess that's why I got pretty good at trap and skeet today. Some of those old records might have been collector's items today." Sanders said.
Stewart Brunner worked at KPCA before leaving for college at the University of Missouri. Brunner was on the air on a station in Columbia the day Elvis died. Legend has it Brunner was trying to play an Elvis record on the radio at about the time Elvis died, and the record wouldn't play. Brunner claimed it was a haunting moment. Brunner has had a long career with Dowdy Broadcasting, managing a cluster of stations in Mountain Home.
Another Marked Tree youngster, Mike Watson, worked at KPCA and became an Army helicopter pilot after receiving his degree from ASU. He went on to become a popular airline pilot with Eastern and Jet Blue, where he won national acclaim playing a harmonica and singing to his passengers.
Marked Tree's star quarterback who led the team to a 1964 district championship, Jerry Ashlock, worked at KPCA, where he earned his way through college and became a popular history teacher and coach at Earle High School until his unfortunate early death.
Another KPCA graduate Tommy Ashby developed a golden voice and an outstanding personality, which helped him land a big time radio gig at WOAI in San Antonio, a 50,000 watt giant. He also died at an early age.
Dwayne McKay was also a popular high school DJ who later became a college engineering professor in Florida.
Bill Lawson said he developed an interest in broadcasting when Waites recruited him to help broadcast an American Legion Championship game in West Memphis at age 17. Lawson had been on the team until an arm injury sidelined him at the end of the season. He worked at KPCA through college and later managed the station before being named the Arkansas National Guard's first public information officer in Little Rock. In that role he received four national awards and received the Oscar of the public relations field, The Silver Anvil, for his work on Betty Bumpers' childhood immunization campaign. He went on to work in corporate public relations and became a national lobbyist for Medicare and all the Blue Cross plans around the country. He also worked with a Little Rock advertising agency handling advertising for Dillards, Blue Cross, Arkla, and Yarnell's Ice Cream. He was elected president of the local ad club and district governor for Arkansas, Louisiana, Texas, and Oklahoma. In that role, he helped establish the first Jonesboro ad club, which has hundreds of members today. Lawson also served on the national board of the American Advertising Federation alongside the presidents of NBC, Readers Digest, Playboy, CNN, and Parade magazine.
As a friend of Bill Clinton, Lawson played a key role in Clinton's election and helped his friend handle the White House Press Corps. He later became a respected journalist and editor with Stephens Media and the Arkansas News Bureau.
Waites' former neighbors in Marked Tree also remembered him well. Gene "Oop" McFerrin was a longtime employee with Ritter Telephone Company. His wife, Pat, a longtime teacher, also worked as the radio station secretary for DeWitt while she finished school at Arkansas State. "We have lots of fond and funny memories, as we were Eighth Street neighbors," Pat McFerrin said. "One time, DeWitt called Oop about supposedly some telephone trouble at his house. Oop got there, and what he really wanted him to do was change out his commode lid because he didn't know how!"
Waites' Road Show impacted even youngsters who still remember him today. Ronald Cates grew up a few streets from the radio station. He was just single-digits-old when Dewitt did his Road Show. "Loved that man," Cates said. "Loved when he would broadcast on the radio station sitting outside in a chair every afternoon close to the sidewalk and say the name of every person that drove by. He waved us kids over walking down the street and put us on the air and told our names. Great memory."
Bruce Ford grew up on 12th Street and remembered Waites as well: "Used to be the coolest thing to a five-year-old, hearing a man talk on the radio about you as you drove by the station."
Waites even pulled a stint at Trumann's radio station where a pair of brothers got their start. Gerald and Steve Jumper left Trumann, and Gerald ended up at Memphis WMC-TV where, as their news anchor called Ray Sherman on April 4, 1968, he broke the news to the world that Dr. Martin Luther King had been slain in Memphis. Younger brother Steve became Ron Sherman, a veteran Little Rock TV personality who now owns his own advertising agency and a production company.
In addition to being the voice of ASU Football from 1963-69, DeWitt was also the voice of the Arkansas Travelers during the 1970 season when he worked at Little Rock radio station KARN and at North Little Rock's KDXE station. He broadcast live all games played at historic Ray Winder Field but road games were recreated from wire tapes showing the outcome of the game utilizing sound effects and his imagination.
Later in his career, DeWitt worked in Jonesboro at then KWEZ-FM, owned at the time by Doug Moulds. Danny Rainwater remembered working with DeWitt in the 90s. "He had a tremendous personality. RIP DeWitt. You will be missed," Rainwater said.
Waites was proud of his "boys" who he helped get their start and tried to stay in touch, but there were so many over the years it became almost impossible. In his traditional fashion, if one of them dropped by his station he'd put them on the air and leave to let them work a few hours.
While it's impossible to even consider all the young lives Waites influenced, it's safe to say it's more than most anyone else working in small town radio.