2015: A look back at some of Poinsett County's top stories
Friday, January 1, 2016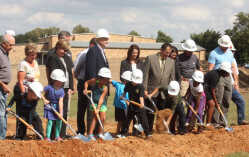 With the new year ringing in this weekend, here is a look back at some of the local stories of 2015 that stood out.
January to April
January saw a huge changeover in public officials as Trumann, Tyronza, and Lepanto welcomed new mayors in Barbara Lewallen, Charles Glover, and Dale Dunlap. The county courthouse also saw changes in faces in the top positions with Bob Cantrell beginning his first term as county judge, Teresa Rouse moving into the county clerk position, and Misty Richardson moving up to county circuit clerk.
In February, the city of Marked Tree hosted a visit from the Daraja Children's Choir of Africa, and the Tyronza Fire Department improved the city's ISO rating from a 7 to a 4 to make the city safer and reduce homeowners' insurance rates.
In March, Poinsett County lost two well-known and loved people on the same day as both former County Judge Charles Nix and Drainage District 7 General Manager Wayne Hinds passed away on March 7. East Poinsett County School District Superintendent Gary Williams announced his resignation to take a superintendent position at Crossett Public Schools. But following his departure, Micky Pierce returned as EPC's superintendent after having retired from the position in 2014.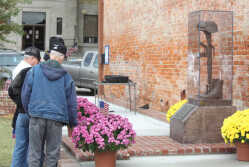 In April, William "Teddy" Prestidge was honored at the age of 93 for his service in World War II. A little over a week after receiving the citation from the Arkansas House of Representatives, Prestidge passed away. Trumann's first Civilian Police Academy class graduated in April. The class's aim is to increase civilians' understanding of law enforcement and to better communication skills between officers and civilians.
Carver Gym
April also saw the beginning of the Marked Tree City Council's discussions regarding Carver Gym. Mayor Arnold closed the gym after the council held their April meeting there and saw its dilapidated state. May's discussions centered around the possibility of giving the gym, which is city property, to the George Washington Carver Alumni Association (GWCAA) as is, but that idea was quickly dropped after members saw the condition of the gym and insisted the city repair it first. Throughout the following months, debate centered around calls for the city to fix the gym. A committee was formed in June to work on funding ideas. In July, the council authorized the mayor to apply for a Rural Development Grant to help with repairs to the gym, but the needed information was not compiled before the deadline. In September, the council approved committing $35,000 to go toward Carver Gym and looked at estimates to renovate the gym or build a new one. In October, the council was presented with a third option: tear down the gym and build a park, which received a lot of criticism from the community. In December, GWCAA held a town hall meeting to discuss Carver Gym the day before the council meeting. December's council meeting saw the mayor cast the tie-breaking vote to throw out the third option after hearing from community members urging the council not to tear down the gym.
May to December
In May, Trumann School District Assistant Superintendent David Rutledge announced his resignation to take a position as superintendent at Riverview School District. He was replaced by Jennifer Barbaree, who moved into the job after having been principal at Watson Chapel, England, and Lonoke.
June saw the opening of Trumann's Fallen Heroes Memorial Park honoring State Trooper William Rose, Jr., Police Chief Larry Blagg, Officer Jonathan Schmidt, and Fire Chief Rick Winkles, Sr. The Bentons of Lepanto were named Poinsett County Farm Family of the Year. Marked Tree Mayor Mary Ann Arnold was announced as one of the inductees into the first class of the Arkansas Women's Hall of Fame.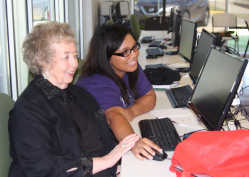 In July, readers were shocked at news from nearby Bay as 90-year-old Lavinda Counce's disappearance quickly became a murder investigation. Police arrested Richard Jordan Tarver, also of Bay, following a two-week investigation thanks to surveillance video showing Counce's car being parked without her and abandoned at NEA Baptist Memorial Hospital and interviews with residents of the trailer nearby where Tarver caught a ride back to Bay. Also during July, Trumann received a grant to make repairs to the Community House, and the Trumann Food Pantry began a program which gave out free fruits and vegetables every week.
Special elections took place in Trumann and Harrisburg in August. In Trumann, voters approved a bond refinancing issue to generate over $2 million for capital improvements. In Harrisburg, voters approved a three-year one-cent sales tax for a new well. Tyronza received a grant to put computers in at their senior center and started a program where EPC students teach senior citizens computer skills. Trumann also held a grand opening for the Sims-Talbot Adult Education/Workforce Development Center, a 5,000 square foot facility to expand offerings for adult education.
In September, the Marked Tree Chamber of Commerce finished a project to renovate the Booker T. Washington monument across from Carver Gym, and the Trumann Police made it big on social media when Sgt. Chad Mason bought a bicycle for a girl whose bike had been stolen. Mason was paying it forward after the community helped raise $14,000 earlier in the year for a service dog for his son, who has Asperger's Syndrome.
In October, ground was broken on a new elementary school to replace the current facility for Trumann. Marked Tree High School brought in successful alumni, such as Monticello Mayor Zack Tucker and radio personality Trey Stafford, to be part of a panel that fielded questions from seniors about life skills and tips for success. EPC High School was chosen as the only school in Arkansas to participate in the Program for International Student Assessment.
In November, two Harrisburg natives were inducted into the Arkansas Military Veterans' Hall of Fame, Staff Sgt. Larry Graves and Col. Timothy Williams. And the Downtown Veterans Memorial Park in Harrisburg was completed in time for Veterans Day.
In December, Trumann's Community House got a new roof, among other repairs, thanks to grant money, and longtime police chief of Marked Tree, Chester Ford, retired. Jerry Lung will replace him as chief in 2016.