Lady Indians fall to rival EPC in NEA Invitational
Monday, January 4, 2016
Marked Tree (4-9) kept the game close for the first half against EPC (10-4). Trailing by only five points entering the third quarter, the Lady Indians could muster only five points as the Lady Warriors took an 18 point lead on their way to a 66-48 win in the their opening round game of the girls' Division I bracket.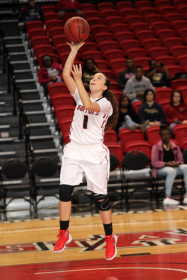 Jayla Carter opened the scoring hit one of two free throws for Marked Tree for a 1-0 lead. EPC's Jaleigha Garrett converted an old-school three-point play, Krystan Vornes hit a jumper and Garrett got a steal and lay up to put the Lady Warriors up 7-1. Carter scored inside for the Lady Indians before Vornes hit a jumper in the lane and Kurstin Bryan scored an easy basket off a Markiya Ward steal as the EPC pushed their lead to 11-3. CJ Barnes converted a conventional three-point for Marked Tree, Vornes scored off an offensive rebound for EPC and Barnes was good on two free throws to make the score 13-8 Lady Warriors with 1:54 left. EPC got a stick back from Vornes before Barnes scored inside for Marked Tree making the score 15-10 Lady Warriors. Christian Hinson got inside for an EPC score only to see Tullia Tull can a three-pointer right before the buzzer making it 17-13 Lady Warriors after one.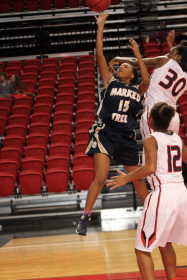 Full game story in the December 31 edition of the PCDT!