Big fourth quarter sends Indians to win
Monday, January 4, 2016
Marked Tree (8-3) used a 24-6 fourth quarter to pull away from Rector (1-10) for a 66-41 win in the opening round of the Division I boys' bracket at the NEA Invitational.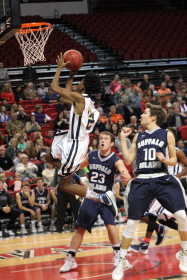 Danny Hager got Rector on the board first with a basket inside to make it 2-0 Cougars. Marked Tree got back to back three-pointers from Colby Malone and D'Angelo Griffin to give the Indians a 6-2 lead. Lawson Ford canned a three-pointer from the top of the key to cut the lead to 6-5 only to see Tirek Young convert an old-school three-point play and Markel Perry hit one of two free throws for the Indians to make the score 10-5 Marked Tree. Ford made one of two free throws for Rector before LaQuentin Miles hit a three-pointer for Marked Tree making the score 13-6 Indians with 3:29 left in the quarter. Ford and Hager hit back to back three-pointers for the Cougars cutting the lead to 13-12 before Marked Tree got an inside basket from Griffin and a tip-in basket from Julian Booker at the buzzer to give the Indians a 17-12 lead at the end of one.
Pick up a copy of the December 31 edition of the PCDT for full story!!