Bay cruises past ICC into NEA finals
Monday, January 4, 2016
Bay (17-4) came out hot and took a 22-11 lead after one and never looked back as they punched their ticket to the Division I title game with a 69-43 win over Izard County Consolidate (ICC) (18-5) in the NEA Invitational Tournament being held at the Convocation Center in Jonesboro.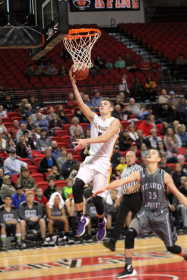 Taylor Layne gave Bay a 3-0 with a three-pointer from the left wing to open the scoring. Robert McFadden made it 4-0 by hitting one of two free throws after being fouled. Andrew Walker got ICC on the board with a three-pointer from the top of key to make it 4-3 Yellowjackets. Crain scored inside for Bay to make it 6-3 only to see the Cougars get a jumper from Clay Mosley making the score 6-5, the closet ICC would get for the rest of the game. Crain and Tyler Pritchett scored back to back buckets before Walker netted another three-ball for ICC to make the score 10-8 Bay. Layne drilled back to back three-pointers from the left wing and Dustin Utley hit a jumper in the lane as Bay stretched their lead to 18-8 with 1:54 left in the quarter. James Norton canned a three-pointer for ICC to make it 18-11 only to see the Yellowjackets get a jumper from Pritchett and a basket down low from Matthew Willard to make the score 22-11 at the end of one.
Grab a copy of the December 31 edition of the PCDT for full game story!