Sarah Popejoy
Tuesday, January 5, 2016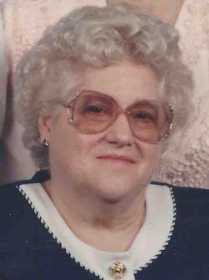 TRUMANN - Mrs. Sarah Elizabeth Popejoy of Trumann died Monday, Jan. 4, 2016 at her daughter's residence in Jonesboro at the age of 83. Mrs. Popejoy was born November 15, 1932 in Harrisburg and lived most of her lifetime in Trumann. She was a bookkeeper for Hyneman & Associates and a member of Pleasant Valley Baptist Church in Trumann. She was preceded in death by her husband, George "Jack" Popejoy; one son, George Norman Popejoy; two brothers, Luther Kyle and Mose Kyle; and her parents, Moses Hamilton and Gladys Marie Albright Kyle.
Those left behind to cherish her memories are one daughter, Nancy Carol Echols and husband Gary of Jonesboro; one son, Neil Popejoy and wife Debbie of Chelsea, Ala.; three grandsons, Micah Ishmael, Jackson (Dianna) Ishmael, and Josh (Shaunna) Echols; five great-grandchildren, Seth, Shae, Emma and Luke Ishmael and Lawson Booth; one sister, Marie French; one brother, Lamar Kyle and wife Carolyn of Fort Smith, and many loving friends, nieces and nephews.
Funeral services will be at 10 a.m., Thursday, Jan. 7 in the chapel of Thompson Funeral Home with Rev. Larry Loggins officiating. Burial will follow in the Jonesboro Memorial Park Cemetery in Jonesboro.
Pallbearers will be Micah Ishmael, Jackson Ishmael, Seth Ishmael, Richard French, Scott French, and Joshua Echols.
Visitation will be Wednesday from 5:00 p.m. to 7:00 p.m. at Thompson Funeral Home in Trumann.
An online register book can be signed at www.thompsonfuneralhome.ne