Nancy Hosman
Tuesday, January 5, 2016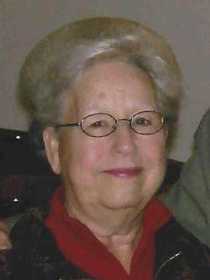 TYRONZA - Mrs. Nancy Lou Hosman, 73, of Tyronza died Sunday, Jan. 3, 2016 at Baptist East Medical Center in Memphis. Mrs. Hosman was born May 15, 1942 in Harrisburg and lived most of her lifetime in Tyronza. She was a pastor's wife and a member of First Pentecostal Church of Tyronza. She was preceded in death by her husband, Bro. Boyd Hosman; one sister; two brothers; and her parents, John and Myrtle Cross Lamons.
She is survived by two daughters, Sharon Burch and husband Johnny of Cordova, Tenn., and Cindy Smith and husband Jerry of Tyronza; one son, Brian Hosman and wife Shannon of Tyronza; two brothers, James (Bodie) Lamons of Columbia, S.C. and Robert (Bob) Lamons of Charleston, S.C.; five sisters, Betty Burch of Marion, Mary Taylor of Damascus, Ark., Margaret Williams of Jonesboro, Janie Whittingham of West Plains, MO and Earline Sanford of Belvidere, Ill.; six grandchildren, Bradley Smith, Leslie Mullins, Preston Neal, Jessica Nash, Hannah Hosman and Samuel Hosman; and six great-grandchildren.
Funeral services will be Jan. 8 at 1:30 at First Pentecostal Church in Tyronza with Bro. Ricky Forbis officiating. Burial will follow in Harrisburg Memorial Park Cemetery in Harrisburg., under the direction of Thompson Funeral Home in Trumann.
Pallbearers will be Chris Kain, Kevin Lyles, Buddy Hosman, Larry Hosman, Bobby Whittingham, and Robby Whittingham. Honorary pallbearers will be Jerry Williams, and Ronnie Lumley.
Visitation will be Thursday from 5-7 p.m. at First Pentecostal Church, 229 Oak Street in Tyronza .
An online register book can be signed at www.thompsonfuneralhome.net.