Hornets' comeback falls short in Kell Classic
Thursday, January 7, 2016
Harrisburg (7-9) trailed by 12 headed into the fourth quarter before cutting the lead to five with a minute left as Augusta hit just enough free throws for an 81-74 win over the Hornets this past Saturday in the Kell Classic at Swifton.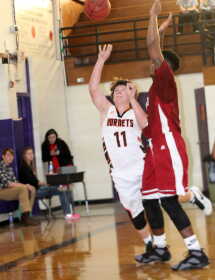 Augusta scored the first six points of the game before Walker Hammond hit a jumper for Harrisburg to make the score 6-2. The Red Devils hit two free throws and Hammond had a stick back basket to make it 8-4 Augusta. An Augusta jumper made it 10-4 before Gatlin Greeno canned a three-pointer and Hammond converted a three-point play for the Hornets to tie the game at 10 with 4:44 left. Augusta hit a three-pointer and added two free throws to go up 15-10 as Hammond scored inside for Harrisburg to make it 15-12. The Red Devils hit one of two free throws, Dylan Mathis hit two free throws for the Hornets, Augusta hit another three-pointer and Greeno hit a jumper in the lane for Harrisburg to make the score 19-16 Red Devils at the end of one.
Full game write up in December 7 edition of the PCDT!