Lady Wildcats lose heartbreaker at Kell Classic
Thursday, January 7, 2016
Trumann (5-8) trialed the entire game but cut the lead to one with under a minute left and had possession of the ball. A miscommunication on the inbound play caused a five second call on Trumann turning the ball over to Highland who went on to win 50-47 in the Kell Classic.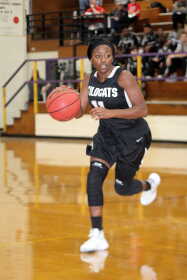 Highland scored first for a 2-0 lead as Trumann got a three-pointer from Taelor Gartman to take a 3-2 lead. The Lady Rebels scored the next eight points to take a 10-2 lead before Zaria McGuire converted a three-point play to make it 10-5 Highland. The Lady Rebels hit back to back shots making it 14-5 as McGuire scored inside to make it 14-7 Highland with four minutes left. A Highland jumper made it 16-7 before Gartman got a steal and lay up right before buzzer to make the score 16-9 Highland after one.
Pick up a copy of the January 7 edition of the PCDT for full game story!