Lung starts as Marked Tree Police Chief
Friday, January 8, 2016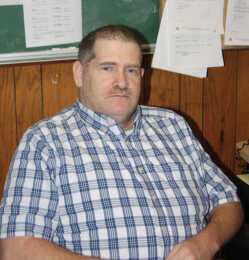 With the beginning of the new year, Jerry Lung took over duties as Marked Tree Police Chief from retiring Chief Chester Ford. Chief Lung is a Marked Tree native, born and raised, and spent all of his 22-year career in law enforcement with the MTPD.
Lung said one of the challenges he faces will be living up to the standards Ford set. "Chester Ford was a leader," Lung said. "That's going to be some huge shoes to fill. Trying to run the department as efficiently as he did is going to be tough, but it's a goal I can reach."
Before starting his career in law enforcement, Lung was working on a farm. He was friends with some of the officers and rode with them every once in a while. When the department needed help with dispatch, they asked Lung for help. And when there was an opening on the street, Lung was asked if he would like to join the department. "I gave it a shot, and here I am 22 years later still going," Lung said.
Lung said one thing he loves about police work is the satisfaction of helping people in his hometown. "Knowing you're doing what you can do to help your community, you can go home with a smile on your face knowing you did something positive for the city," he said.
Among his plans as chief, Lung wants to focus a lot on training for his officers to make sure they are more prepared for what's going on in the world today. Most importantly, he wants to restore the community's trust in the police force, especially with what's been going on nationally between the public and police. Lung wants to do community appreciation events to give people a chance to meet with officers, and he wants to get the officers more involved in community projects.
"I just feel like if we can get the community more involved in what we do, things will run more smoothly," Lung said. "Getting the community more involved goes hand-in-hand with running a better department."