Geoffrey "Scott" Bradley
Wednesday, January 13, 2016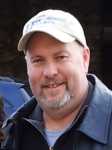 WASHINGTON, N.C. - Geoffrey "Scott" Bradley, 49, a resident of Washington, N.C., died unexpectedly Monday, Jan. 11, 2016, at his residence.
Scott was born in Jan. 23, 1966, in Trumann to Melvin and Jerry Robinson Bradley. He was a 1984 graduate of Washington High School and attended Beaufort Community College and East Carolina University. His true passions in life were his family, his children, and his faith in Christ. Scott was employed with Impressions IDX as an engineering supervisor and had previously worked with Singer Furniture of Chocowinity, N.C., and Carver Machine Works of Washington, N.C. Scott also had a great love for wood turning, and he was a member of the Downeast Wood Turners. He was a member of Oakmont Baptist Church in Greenville, N.C., where he was a Sunday school teacher. He was very active in the marching band in high school and in college. He was an avid sports participant, including recreational softball. Scott was married on Aug. 4, 2008, to Cameron Smith Bradley, who survives.
Survivors in addition to his wife include one daughter, Taylor Elizabeth Bradley; one son, Chandler Scott Bradley; his parents Melvin and Jerry Bradley; one sister, Christy Bradley; one nephew, Fletcher D. House; his grandmother, Clara Robinson; his former spouse, Susan Bradley; his in-laws, Ella Mae Smith and Michael Corless; and sister-in-law Stacey Smith. Other survivors include his aunts and uncles Imogene and Bill Stone, Arden and Debbie Robinson, Sharon Lampkin, Bobby and Rose Bradley, Dianne and Tom Bradley, and a host of cousins.
A celebration of his life will be held Thursday, Jan. 14, at 2 p.m. at Oakmont Baptist Church, 1100 Redbanks Road in Greenville, N.C., officiated by Gregg Rogers. The family will receive friends on Wednesday Jan. 13, from 4-8 p.m. at the home of Ella Mae Smith, 219 Main Street, Bath, N.C.
In lieu of flowers, memorial contributions may be made to Saint Jude Children's Hospital, P.O. Box 1000, Dept 142, Memphis, TN, 38148.
Anyone may share a memory with the family and view Mr. Bradley's memorial by visiting www.hillsidefuneralservice.com.