Bay falls to Cross County in Kell semi-finals
Thursday, January 14, 2016
There will be no seven-peat this year in the Kell Classic being played at Swifton. Bay was held to one point in two overtimes as Cross County scored a basket early in the second overtime and hung on to win 53-52.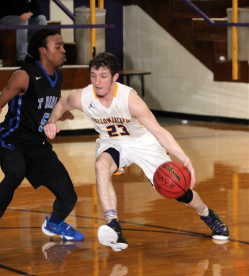 Cross County got on the board first with a basket inside before Dustin Utley tied the game at 2-2 with two free throws for Bay. The Thunderbirds canned a three-ball to make it 5-2 only to see Robert McFadden and Tyler Pritcehtt scored back to back baskets to give the Yellowjackets a 6-5 lead. Cross County netted three-pointer and Jonathan Crain scored inside for Bay to make it 8-8 with 4:12 left. The Thunderbirds drilled back to back three-pointers and added a basket inside making it 16-8 before Taylor Layne hit a jumper in the lane for Bay to make it 16-10 Cross County. Cross County scored the next five points and Utley scored inside giving the Thunderbirds a 21-12 after one.
Full story in January 14 edition of PCDT!