Lady Hornets tumble in Kell Finals
Thursday, January 14, 2016
Harrisburg (11-6) jumped out to an early lead after the first quarter before Tuckerman fought back to tie the game at halftime. The game was still tied after three quarters before the Lady Bulldogs used a big fourth quarter in posting a 55-49 win over the Lady Hornets in the championship game of the 30th Annual Kell Classic in Swifton.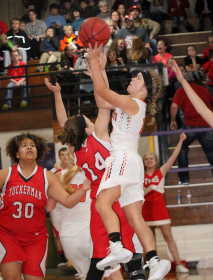 Abby Edwards got the Lady Hornets on the board first with a jumper to make the score 2-0. Keely Edwards made it 4-0 Harrisburg with two free throws before Tuckerman's Deria Ratliffe scored inside and then hit one of two free throws after being fouled to cut the lead to 4-3. Abby Edwards hit one of two free throws for Harrisburg only to see Katelyn Platt and Ratliffe score back to back baskets for the Lady Bulldogs to make the score 7-5 Tuckerman. Keely Curtis scored inside and Keely Edwards drove in for a lay to put the Lady Hornets us 9-7 with 3:10 left in the quarter. Ratliffe got a basket inside for the Tuckerman to tie the game at 9 before Curtis canned a three-pointer and followed with a coast to coast to lay up to give Harrisburg a 14-9 lead. Ratliffe hit on of two free throws for Tuckerman and Abby Edwards hit one on two free throws for the Lady Hornets to make it 15-10. Curtis hit a running jumper in the lane for Harrisburg seconds before the buzzer sounded to give the Lady Hornets a 17-10 lead at the end of one.
Pick up a copy of the January 14 edition of the PCDT for full game story!