Lady Wildcats take conference win at Harrisburg
Thursday, January 14, 2016
Trumann (6-9, 2-3) got 23 points from Taelor Gartman and the Lady Wildcats withstood a late Harrisburg comeback to take a 4A-3 conference win over the Lady Hornets (11-5, 3-2) this past Friday in Harrisburg.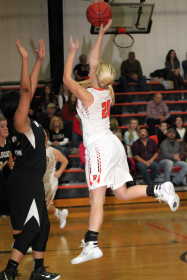 Kelcie Roland gave Trumann the early 2-0 lead with a basket inside as Keely Curtis answered with a basket inside for Harrisburg to make the score 2-2. Starlasia Simmons hit two free throws for the Lady Wildcats to make it 4-2 Trumann before Curtis got one of two free throws to fall for Harrisburg making the score 4-3 Lady Wildcats. Kylie DeVries hit a three-pointer to give Harrisburg a 6-4 lead only to see Gartman score back to back baskets to make the score 8-6 Trumann. Lexi Jackson canned a three-pointer for Trumann and Keely Edwards scored inside for Harrisburg to make the score 11-8 Trumann with 1:58 left in the opening quarter. DeVries went coast to coast for a Harrisburg lay up only to see Trumann get a three-pointer from Gartman and an old-school three-point play from Roland to make the score 17-10 Trumann. DeVries connected on three-ball from the top of key for Harrisburg at the buzzer to make it 17-13 Lady Wildcats at the end of one.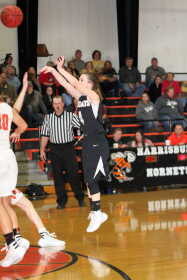 Complete game coverage in January 14 edition of PCDT on newsstands now!!