Sheriff Mills gives year in review
Friday, January 15, 2016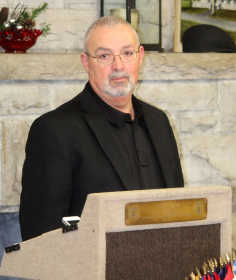 Poinsett County Sheriff Larry Mills gave the Trumann Lions Club a review of Poinsett County jail for 2015 at the club's first meeting of the year.
Club president Sandy Teague asked those in attendance three questions to see if anybody knew the answers: How long has Mills been sheriff? Who was his last opponent? Who was the last sheriff before Mills? Several offered guesses, and Teague told the group Mills would give the answers.
"I'm entering my 20th year as sheriff, so 19 years is the correct answer. Gerald Crawford was the last candidate I ran against, and Jimmy Carter was the last sheriff before I took office," Mills said.
"I can remember that first year I ran. We knocked on all the doors in the county. Did it again three weeks later and then once again in the fall. Seems like we campaigned the entire year," Mills said. "It's been such an honor to have served you as sheriff for all these years."
Mills told the group the jail is the sheriff's worst nightmare. "It's a money pit, but it's a necessary money pit," Mills said. Inmate lawsuits are one of the issues the jail faces. "Inmates will sue for things from wanting the menu changed to wanting a newspaper each day. Lawsuits have rose from an average of three a year to 16 a year. We have one inmate who has filed eight lawsuits," Mills said. Mills said most times due process will happen. He's also talked with the sheriffs around the state, and all face the same issue.
Mills also said the inmate population makes it hard to plan a yearly budget. "From 2014 to 2016, the population had doubled. You budget one amount, and then the population rises. You have to have more money," Mills said. "We had a rise toward the end of the year and had to go ask for more money."
Medical expenses and prescriptions are the most costly things for the jail. "If an inmate gets hurt, we have to take care of him. If someone is bad sick and requires medication, there is a co-pay that is charged. Doesn't mean we will ever collect it because if they have no money on the books, the county has to pay it. We cannot deny anyone's medical care if they are in our custody," Mills said.
Mills said everyone who comes into the jail brags about how nice it is. "It's nice because we have taken care of it, but it is 20 years old and a lot of the equipment is past its service life," Mills said. "It's $100,000 to replace a chiller or boiler, and we are past the life on both of them. We are trying to plan and save money for when either of these goes out on us."
"We had a boiler vent needing repaired, and they wanted $18,000 to fix it. I called Poinsett County Judge Bob Cantrell, who came out and looked at it. He called another company who fixed it for $800. Have to give credit to the judge for saving the county some money on that problem," Mills said.
The fire alarm system has been replaced at the jail, and work is now ongoing on the sprinkler system to bring that up to date. A new digital recorder was purchased for the jail. "It records all calls, radio traffic, and 911 calls. It's very helpful to have recorded material when we to go court on some cases," Mills said.
Mills told the group that he's had a good bunch of deputies. "This group has been good. We continue to train them with the latest training or technology as it becomes available," Mills said.
Mills told the group that it's getting hard to find individuals who want to be a deputy sheriff. "They are becoming a target. They want to be able to go home every night just like everyone else does" Mills said. "Another thing is if a deputy has to use deadly force, that almost guarantees a lawsuit of some sort, and most are not wanting to have to go through that."
Mills ended with heartfelt thanks to the group. "I really want to thank you all for allowing me to have been in this office for all these years. I really appreciate each of you," Mills said.