Trumann officers take time out for the kids
Thursday, January 21, 2016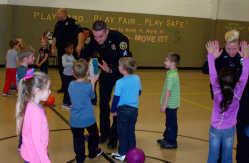 Trumann police are taking the time to connect with the community. During the past couple weeks, Trumann School Resource Officer Melissa Duran has been bringing officers and firefighters to Cedar Park Elementary to play glow bowling with the kids.
"I want the kids to see the police department in a positive light," Duran said.
Duran made sure every officer got to come out at least once to play glow bowling with different age groups during P.E. classes. She had the firefighters come out too. Officers gave encouragement, cheered the kids on, and helped kids who were having trouble by showing them how to bowl.
"The kids absolutely loved it," Duran said Friday. "We'll be back here Tuesday with some of the older kids, and they are beside themselves with excitement. I've had every officer at the department out here. They've been dancing with the kids and playing. They've been having a great time."
P.E. Coach Cindy Martin said there was an awards ceremony going on Friday, and several of the kids going to it were sad they would miss playing with the officers because they had so much fun with them.
Duran said Trumann officers are making an effort to integrate into the community more. As school resource officer, she also plans after-school activities for the kids and has worked to get officers in the schools for things like the Life Skills classes. She said the community officers are getting out more and will join kids in basketball and football games when they have a chance.