Virginia Evans celebrates 90th birthday
Friday, January 22, 2016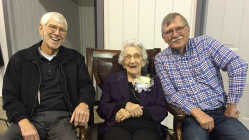 When Virginia Evans was just one month old--in the freezing cold of February 1926--her mama and daddy traveled with their newborn in an old Ford car to Flint, Mich., so her daddy could look for work. While she doesn't remember that, she's heard her folks tell how it was so cold they had a lantern in the floorboard of that old car to keep from freezing.
Hard work and such daily struggles were a way of life for many back then, and her family was no exception.
Virginia Slinkard Evans will turn 90 on Friday, Jan. 22.
The oldest of nine kids (one died in early childhood), Evans' family had no money, and even before the stock market crash in 1929, jobs in rural Arkansas were scarce. So the family traveled nearly 800 miles to look for work and would live in both states for two years.
"There were so many people up there from Arkansas that every time we wanted to come back down here we could get two or three friends, charge them like $5 apiece and then that would pay our way down here," Evans said. "People went up there in the Depression. The car factories were getting started up there, and I guess there was just more work up there."
Even her mother went to work in a factory while they lived in Michigan.
"People got jobs and more welfare up there. There wasn't any welfare down here. If you didn't have something to do, you'd starve," she said.
Her parents, Hiram Sylvanis and Esther Metcalf Slinkard, always made sure their family ate.
"You had a cow, you had a chicken to lay eggs, you had a hog to kill in the wintertime, and you had to have a team of horses or mules," she said.
Those were essential, Evans said. "That was things you had to have to survive. And you could survive. You could raise enough food. I mean it wasn't fine, but you could survive on it."
A vegetable garden was also necessary, and most families raised peas or corn or a hay patch. The Slinkards raised whippoorwill peas instead of purple hulls--cows liked the whippoorwills better, so they raised the vines for hay and ate the peas.
The family was also fortunate enough to have two Elberta peach trees in their garden, and Esther Slinkard would can 50 half-gallon jars of peaches, along with 50 jars of tomatoes, a number of jars of beans and whatever blackberries they could pick to last them through the winter.
On Saturday mornings, Evans and her mother would walk 3 1/2 miles up the road to sell eggs and butter.
"We didn't have baskets," she recalled. "We had a bucket, seems like a molasses bucket. We put a cloth or a towel or a rag in the bottom of it and gently lay our eggs in there. We carried our milk in glass jars; we didn't have plastic back then."
As a child, her family lived in a three-room house--living room, bedroom, and a kitchen across the back. Her "bedroom" was at the back of the kitchen, marked off by curtains. Evans had one dress, and at night she hung it on a nail in the wall. There was no other outfit.
Sometimes, they would find snakes in the cabinets because their house didn't have screen doors--just old wooden doors they had to prop open in summer to let in a breeze (and critters).
Evans also walked to school, of course, carrying a paper sack with a biscuit, a scrambled egg or a piece of ham, or something similar for lunch. And they had to bring the sacks home so they could use them again the next day. That was an upgrade from carrying their lunch in a newspaper, she said. Eventually, they got a pail to carry their lunch, but she and her siblings had to share it.
At age 15 she married Charles Evans and quit school. She was in the 10th grade, but that was the norm for girls who got married young. (The rest of her siblings all received their diplomas, however.)
"Life was so hard, you know. It was different," Evans said.
She said it wasn't unusual for the country schools to have session in the summer so kids could be home and pick cotton in the fall. That was in the days when tiny one- and two-room schoolhouses dotted the country every two or three miles, like Shady Grove, Maple Grove, Hatchicoon, and Tulot.
Charles had gone to fourth grade, then went to work; his brother Henry Evans went to sixth grade. They had to work in the field, and had to miss so much that they didn't really learn anything when they did go.
What few clothes they had, she made from flour sacks, which came in an array of colors and prints.
They bought 25- and 50-pound flour sacks and made their own bread. If they had any treats like cakes, pies, or cookies, they were made at home.
"You didn't go to town to buy anything," she said.
Evans said she always tried to be really saving with their money, and she could remember one time Charles was going to town with his brother, which in itself was a big deal--people didn't make frequent trips to town. Charles was taking a load of cotton and asked if she wanted him to buy a loaf of bread, and she told him no. "A loaf of bread was ten cents, and I didn't want him to buy a loaf of bread. I would make it; it was cheaper to make. That's how things were," Evans said.
"We lived so far out, (the cotton pickers) didn't want to come that far out. It was cotton from here to town, and they could stop and not have to come that far out. But when they'd get all this cotton here picked, then they'd come to our house. We'd have snow white cotton for them to pick. We could get pickers then," Evans said.
And Evans was out in the fields, working alongside her husband, and later, their two sons, Danny and Teddy. Her husband eventually built a small building with stone siding for the bunks, then another for a kitchen.
"We furnished everything," she said, including double-decked steel cots with mattresses, Army blankets, and a little cookstove.
That was in 1952. "We made a real good crop that year, and we paid our place off, and we bought a new truck, and we built on to our house, all that year, so I know it was 1952," she said.
She and Charles got their first car when their oldest son, Danny Evans, was about 6 months old. It was an old Model A.
Teddy came along seven years later, and both graduated from Trumann High School. Danny still lives in Trumann with his wife, Patricia, and Teddy and his wife, Debbi, live in Batesville. Evans has five grandchildren, 11 great-grandchildren, and four step-great-grandchildren and two great-great-grandsons.
Charles died in 2006, just two weeks before he and Virginia would have celebrated their 65th wedding anniversary.
When Teddy was still in school, Virginia went to work in the cafeteria at Cedar Grove Elementary. Charles continued to farm for about ten years and after that, he drove a school bus for Trumann schools. Later, he too worked part-time in the elementary cafeteria.
Both retired from the school in 1992.
Evans' family surprised her on Jan. 10 with a surprise birthday party at First General Baptist Church in Trumann.