Fair board gathering ideas for community center
Sunday, January 24, 2016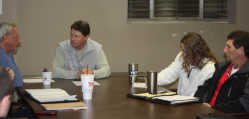 The Poinsett County Fair Board held their first public meeting Tuesday night to talk about ideas for a community center to replace the old fair exhibit building. Very few people besides fair board members showed up, but the board did kick around some ideas, mainly trying to figure out how big the building should be.
"The old exhibit building is in rough shape. We're looking to build a new exhibit building, but the city needs a community center too," said fair board member Scott Harper. Harper said it made sense for the city and the fair board to work together to build a center that could be used year-round. The center would go where the old livestock barn used to be.
The group looked at a rough plan of a 60x100 building to start brainstorming. This plan was based around an a 40x74 basketball court, which is big enough for peewee games, and was meant as a jumping-off point for ideas.
Board member Angela Swanner said ideas people had mentioned to her included using the building for training classes for police and for 4-H training, both at a state and local level.
Other ideas mentioned during the meeting included an indoor walking track. Harrisburg Mayor Randy Mills said they stood a better chance of getting grant money to fund the community center if exercise was tied into it.
One question the group kept coming back to was how big the building needs to be. "We need one, and we need to know what the community wants. Trying to find out how big the facility needs to be is the hardest part," Harper said.
Figuring out what the community wants out of a community was difficult to do with such low attendance, but the board has another public meeting scheduled for 6 p.m., Tuesday, Jan. 26, at the Harrisburg municipal building across from the county courthouse at 202 N. East Street.
Fair board members agreed that the things they needed to find out next were how big buildings like the armory, the new gym, and the elementary cafeteria are as well as how many people to plan for so they can get a better idea of how big the community center needs to be.
Harper said the center was not just for the fair board or the city but for the community and surrounding communities, which is why it's important to get input for people. "We want it to be feasible, but it's got to be functional," Harper said.
Anyone interested in giving input who cannot attend the next meeting should stop by Harrisburg City Hall and pick up a suggestion form, call the chamber office at 870-578-4104, email: harrisburgchamber2015@gmail.com, fax: 870-578-9467, or leave a private message on the