Junior Lady Hornets fall to Brookland
Thursday, January 28, 2016
Destany Lovell scored 19 points for Harrisburg but it wasn't enough as the Junior Lady Bearcats posted a 46-31 win this past Monday night in Harrisburg.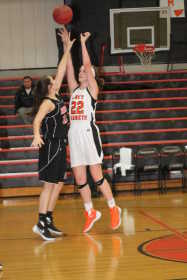 Brookland opened the scoring with a basket inside and Lovell answered with a basket inside for Harrisburg to tie the game at 2 with 5:02 left. The Junior Lady Bearcats scored 18 straight points over the next five minutes taking a 20-2 lead at the end of the first quarter.
Pick up a copy of the January 28 edition of the PCDT on newsstands now for full game story!