Fourth quarter collapse costly for Lady Hornets
Thursday, January 28, 2016
Harrisburg had a seven point lead going into the fourth quarter only to see Brookland outscore the Lady Hornets 26-8 to take a 62-51 4A-3 conference with this past Monday in Harrisburg.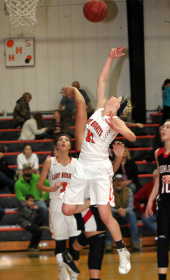 Keely Edwards traded baskets with Brookland over the first minute and half before hitting one of two free throws to give the Lady Hornets a 5-4 lead. Kylie DeVries hit a three-pointer for the Lady Hornets to make it 7-4 only to see Brookland hit a three-pointer to make it 7-7. Harrisburg scored the next eight points as Jessica Webb and Keely Edwards both scored inside baskets, Abby Edwards netted a jumper and Keely Curtis hit two free throws to make it 15-7 Lady Hornets with 2:25 left. Brookland hit a three with just under a minute left to make it 15-10 as the score was the same as the quarter ended.
Complete game write in the January 28 edition of the PCDT!