Bay uses big fourth quarter to topple EPC
Thursday, January 28, 2016
Bay (25-5) outscored EPC 24-10 in the final quarter turning a six point deficit into a 64-56 win this past Monday night in a non-conference match-up in Lepanto.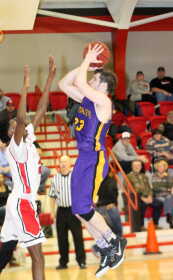 Taylor Layne canned a three-pointer to open the game giving Bay an early 3-0 lead before Clay Malone drilled a three-pointer for EPC to make the score 3-3. Robert McFadden scored inside and Tyler Pritchett netted a three-pointer to push Bay's lead to 8-3. Keyon Dorsey hit a jumper in the lane for the Warriors, Pritchett hit two free throws for Bay and Xzavier Reed got a three-pointer to fall for EPC to make the score 10-8 Yellowjackets with 3:20 left in the quarter. McFadden canned a three-ball for Bay only to see J'Sebian Brown answer with a three for EPC to make the score 13-11 Bay. McFadden got a stick back basket and Brown drilled a three-pointer from the top of key as the Yellowjackets led 15-14 as the first quarter came to an end.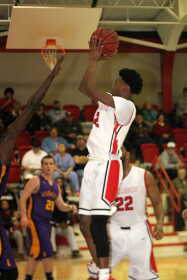 Full game story in the January 28 edition of the PCDT!