Smith's buzzer beater gives Junior Lady Wildcats victory
Friday, February 5, 2016
Tay Smith hit a base line jumper right before the buzzer for Trumann to send the Junior Lady Wildcats to a 34-33 win over Cave City this past Thursday night in junior high girls' basketball action.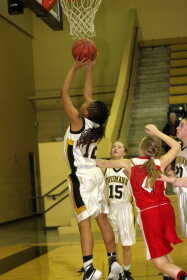 Caroline Morgan gave Trumann an early 3-0 with a three-pointer from the left corner only to see Cave City score the next six points to go up 6-3. Morgan hit two of three free throws after being fouled attempting a three-pointer and Smith scored back to back baskets to give the Junior Lady Wildcats a 9-6 lead with 2:04 left in the opening quarter. Cave City got back to back scores taking a 10-9 lead. #11 canned a three-pointer to give the lead back to Trumann at 12-10. Cave City hit one of two free throws late in the quarter to make it 12-11 Junior Lady Wildcats after one.
Pick up a copy of the February 4 edition of the PCDT for full story!