Andrews, Booker lead Wildcats to win over Cave City
Friday, February 5, 2016
Kevonte Andrews and Kelon Booker proved to be a tough one-two punch for Cave City to handle as they combined for 43 points in leading Trumann to a 66-61 4A-3 conference win over the Cavemen this past Friday at Wildcat Gym.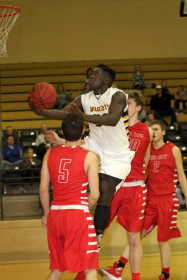 Andrews opened the scoring with a stick back basket only to see Cave City answer with a stick back to make it 2-2. Andrews scored the next five points with a basket inside, one of two free throws and another stick back basket to give the Wildcats a 7-2 lead. Cave City converted a three-point play before Andrews hit two free throws making the score 9-5 Trumann with 4:48 left. The Cavemen hit two free throws only to see Jay Jones drill a three-pointer for the Wildcats making the socre 12-7 Trumann. Cave City hit a jumper as Jones drilled another three-ball and Booker scored inside for Wildcats to stretch their lead to 17-9. Cave City scored the next six points making it 17-15 before Booker hit a three-pointer to make it 20-15 Wildcats. The Cavemen scored the last five points of the quarter to tie the game at 20 after one.
Full game write up in the February 4 edition of the PCDT!