Daniels inks with Crowder College
Friday, February 5, 2016
Marked Tree's Blake Daniels made it official this past Friday as he signed his letter of intent to continue his baseball career at Crowder College in front of family, friends and coaches. Daniels was all smiles after the signing.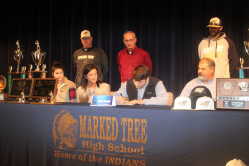 "It feels really good. I'm glad I'm going to be able to play at the next level," Daniels said. Catcher, third base or first base are the likely positions Daniels will play for Crowder. "I tried out at third base when I went. I took some grounders and then got some swings in," Daniels added. "I hope with the way I swing the bat I can get in the lineup right from the start. I know I'll have to work hard everyday too," Daniels said.
Long hard practices in the summer and fall and all the extra time spent in the batting cage has made Daniels a feared hitter in the area. Coach Michael Wages had noting but praise for his star athlete. "If I needed one person for a clutch at-bat, Blake would be that person. I've never seen him not produce," Wages said. "I've seen him get intentionally walked with the bases loaded," Wages added.
All the extra swings have paid off for Daniels who is a three-time all-state selection. Daniels' average has went from .396 as a freshman to .659 last year. He has driven in 105 runs going into his senior season. Daniels will play most every infield position during the upcoming season. "He makes everyone around him better. It's like having a coach out on the field," Wages said.
Daniels had interest from Itawamba Community College in Mississippi and a few other Division II schools before choosing Crowder. Located in Neosho, MO, Crowder is ranked 17th nationally in the pre-season NJCAA and is known for sending players on to Division I schools. "That is what my goal is, to move on from here to a Division I school," Daniels said. Wages thinks that will be the case. "Don't be surprised if you don't see him at the D1 level after his days at Crowder."