Lady Hornets get payback with win over Trumann
Friday, February 5, 2016
Harrisburg went on the road to Trumann this past Monday night and were looking for payback from the loss they suffered at home earlier in the season to the Lady Wildcats. The Lady Hornets led by one after the first quarter and extended that lead after each quarter on their way to a 52-40 conference win over the Lady Wildcats.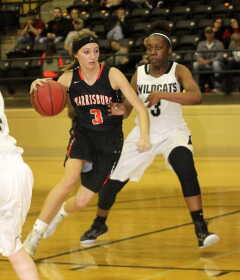 Starlasia Simmons scored inside for Trumann only to see Kylie DeVries hit a base line jumper for the Lady Hornet to make it 2-2. Simmons hit two free throws for the Lady Wildcats only to see Jessica Webb hit a jumper for Harrisburg to make it 4-4 with 4:16 left. Simmons hit two free throws and Hannah Wood netted a there-pointer so put the Lady Wildcats up 9-4. Keely Edwards scored inside for Harrisburg before adding two free throws making the score 9-8 Trumann. Zaria McGuire hit two free throws for Trumann to make the score 11-8 before Harrisburg got an inside basket from Cassie Armstrong and two free throws from Webb to make it 12-11 Harrisburg after one.
Full game story in the February 4 edition of the PCDT!