Superintendent Graham gives update on new elementary school
Friday, February 5, 2016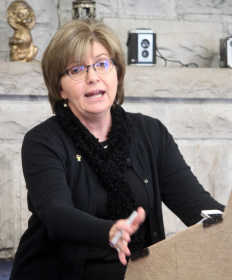 Trumann School District Superintendent Myra Graham and Facilities Director Jason Grubbs spoke to the Trumann Lions Club last week about the progress of the new elementary school.
Graham said concrete is being poured now for the kindergarten and first grade wings of the school. The shell of a safe room--each hall will have one--has been built for one of those wings. "It it going to be so nice for each grade wing to have it's own safe room for when it's needed," Graham said.
The aforementioned grades will be on one end of the building with a playground while grades two through four will be on the opposite end with their own playground. In between the grade wings will be the office, gym, and rooms for special education, speech, and occupational therapy. "The security will be much better at the new school as everyone will have to check in with the office before getting admitted into the school. It's so nice to have that security," Graham said.
The Pre-K program is moving from its current location on the corner of Cedar and Magnolia to the newer buildings of the existing school. "That building was in bad shape, so we are grateful that they will get to move over into better facilities," Graham said. "We are just so excited for the opportunity all the kids will have."
The new school will have buses dropping off and picking up kids in the front of the school. Car riders will be dropped off and picked up on the back side to help minimize traffic at those times of the day.
Cahoon Steiling is the architect firm for the project with Nabholz Construction building the new school. "We have two great companies working on helping us get this new school built," Graham said.
Grubbs spoke about the progress of how the building will move along. "About half the dirt work is done and ready for concrete to be poured. When we get the first half poured, work on preparing the other half will start as steel work will begin on the first half. We are pouring about 9,000 square feet of concrete a day with the amount of daylight we have at this time. It may not seem like much, but we are making progress daily," Grubbs said.
Graham was thankful for the city wanting the kids to have a new school. "We are so excited for the little ones to get a new facility. Thank you so much," Graham said.