Junior Yellowjackets beat Marked Tree in thriller
Thursday, February 11, 2016
Bay let a ten point lead slip to two points a little over halfway through the fourth quarter before holding on to beat the Indians in a non-conference game this past Thursday in Bay.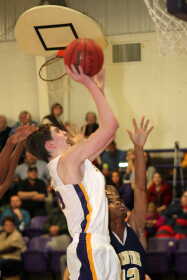 Dax Gibson opened the scoring for Bay with a jumper to make it 2-0 only to see AJ Johnson hit two of four free throws on successive trips to the free throw line to make the score 2-2. Tray Wofford canned a three-pointer for the Junior Indians followed by a jumper from Tray Brown to make the score 7-2 Marked Tree with 1:36 left in the opening quarter. Johnson scored inside for Marked Tree to make it 9-2 as the Junior Indians finished the quarter with a 9-0.
Pick up a copy of the February 11 edition of the PCDT for full article!