Marked Tree takes road win over Bay
Thursday, February 11, 2016
Marked Tree withstood a late Bay rally to post a 61-54 win in a non-conference game this past Thursday night at Bay.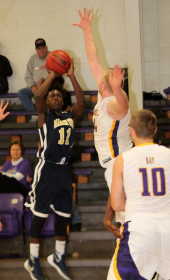 The Indians jumped out to a 3-0 lead with Nick Andrews hitting one of two free throws and Markel Perry scoring off the fast break before Taylor Layne canned a three-pointer for Bay to tie the game at 3-3. Andrews scored inside to make it 5-3 Marked Tree only to see Bay get a three-pointer from Robert McFadden and Layne and an inside basket from Dustin Utley to give the Yellowjackets a 11-5 lead. Perry stuck back his own miss, D'Angelo Griffin drained a three-pointer and LaQuentin Miles got a steal and lay up to put Marked Tree up12-11 with 2:04 left. Jonathan Crain converted an old-school three-point play for Bay before Miles netted three-pointer for Marked Tree making the score 15-14 Indians. Layne's jumper with less than a minute left to play made the score 16-15 Bay at the end of one.
Full story in the February 11 edition of the PCDT on newsstands now!!