Junior Indians get win in district opener
Thursday, February 11, 2016
Marked Tree (12-8) raced out to a 9-0 lead after the first quarter on their way to a 49-35 win over Rector (8-15) in the opening round of the 2A-3 junior district tournament in Lepanto.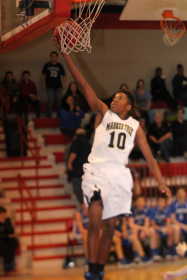 AJ Johnson scored the first points of the game as he hit one of two free throws on back to back trips to the free throw line for Marked Tree for an early 2-0 lead. Jack Brown scored off the fast break for the Junior Indians to make the score 4-0 with 2;30 left in the quarter. Jack Brown got a steal and lay up before converting an old-school three-point play late in the quarter to give the Junior Indians a 9-0 lead after one.
Pick up a copy of the February 11 edition of the PCDT for complete game article!