Honey tells story of sharecropper's troubadour at STFM
Saturday, February 13, 2016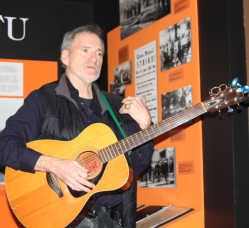 John Handcox--labor organizer, poet, and songwriter--was an important part of the history of the Southern Tenant Farmers' Union. Dr. Michael Honey, a professor at University of Washington Tacoma who spoke at the Southern Tenant Farmers Museum last Friday, first met Handcox as a graduate student in the 1980s when Handcox was rediscovered after having disappeared for decades. "He was like one of these bluesmen recorded in the 20s who disappeared and were later rediscovered," Honey said.
Honey is the author of the book "Sharecropper's Troubadour: John L. Handcox, the Southern Tenant Farmers' Union, and the African American Song Tradition." He spoke about Handcox's life, how the book came about, and sang a couple of Handcox's songs.
Handcox was born in Brinkley, Ark., in 1904. His father was a landowner, but he died in a buckboard crash, leaving 11 children without a father. Handcox took the lead in the family.
Honey said Handcox fell out of sharecropping in 1933 and started a business going door-to-door selling things like fish, popcorn, soda, and moonshine. Around this time, he met H.L. Mitchell, who owned a gas station in Tyronza. Mitchell was co-founder of the Southern Tenant Farmers' Union, which was one of the first integrated labor unions in the country. Handcox figured since he was going door-to-door anyway meeting people, he might as well sign people up for the union. He wrote songs for the union under the name John Henry, the steel driving folk hero, and got them published in the Sharecropper's Voice.
Eventually, word got out who was writing the songs, and a lynch mob came looking for Handcox in 1937. While Handcox was out fishing, "his mother came out yelling for him," Honey said. "She said a white friend of ours coming from the general store is saying a white group of men are coming to get you."
Honey said Handcox was kind of hotheaded and was prepared to fight back. "John told me that he told his mother: if that mob comes here, I'm going to put my shotgun on the transom and put something on someone's mind." His mother warned him not to because if he shot anyone, it could wind up getting the whole family killed. So Handcox left town and took a Greyhound bus to Memphis.
"John became an exile, singer, songwriter, and as far as anyone knew, he disappeared," Honey said. In 1967, book called "Hard Hitting Songs for Hard-Hit People" was put together by Alan Lomax, Woody Guthrie, and Pete Seeger. Handcox's songs were among those featured in the book, but they couldn't find him to pay him royalties and thought he was dead.
Always an entrepreneur, Handcox had traveled to Missouri and Oklahoma before ending up in San Diego where he sublet a house, opened a grocery store, and sold items out of the back of a truck. One day he was in a bookstore and saw a book by H.L. Mitchell called "Mean Things Happening in Their Land." Mitchell had also been run out of town in the 30s after people boycotted him for being head of the union, and Handcox was thrilled he was still alive. The book was dedicated to Handcox and the other people who built the union. Seeing that book and reconnecting with Mitchell eventually led to Handcox being rediscovered.
Honey said he was involved with the Labor Heritage Foundation's arts forum in Washington D.C. in 1985. They had invited Pete Seeger who said he had just rediscovered Handcox. Handcox, who was 81 at that time, was invited to the forum. "He was very elegant looking, and he was kind of puzzled," Honey said. But when Handcox seemed unsure what to do, so he started singing "We're gonna roll the union on," and everyone recognized him. "You could see he was really pleased," Honey said.
After his rediscovery, everyone wanted to record him. Ralph Rinzler at the Smithsonian Institution, who had paid to bring Handcox to D.C., said someone had to interview him while he was there. Seeger knew Honey was a singer and organizer, and Honey had done oral history as part of his dissertation. Since he was the only one around, Honey ended up doing the interview with Handcox the next day.
Handcox came to the festival for three years, and with the second year he started writing songs again. He sent Honey poems, which Honey would set to music, and the two would sing them together. Honey also did some more interviews with him, though it took him until 2013 to finally get the book on Handcox written.
Handcox died in 1992. Pete Seeger had written a preface for the book, and Honey was afraid Seeger was going to die too before the book came out. When Honey initially talked to a publisher about the book, he was told it wasn't interesting and that he should send it to a university press, from which he got not answer. So he reworked the book to focus each chapter around a song or poem with the story of where the song came from interspersed with oral history from Handcox. "It was hard to do and took many years," Honey said.
But the book finally came out in November of 2013. Honey called Seeger to tell him the book was out and said Seeger, who was reeling from his wife's death a few months before, perked up when he heard someone was on the phone for him talking about John Handcox. Seeger died two months later. "I told him the book was out. I hoped he got to see it," Honey said.