Junior Lady Yellowjackets win district in four overtimes
Thursday, February 18, 2016
Tot Diaz converted a three-point play with 1.6 seconds left in the fourth overtime giving Bay (19-9) a 32-31 win over Maynard (25-4) and the 1A-3 East junior district championship last Wednesday in Bay.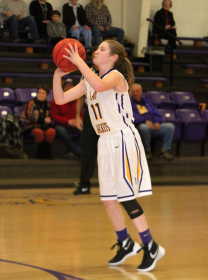 Maynard got on the board first with a jumper from Joyce Johnson before Kaylee Crain hit two free throws for Bay to make it 2-2. Maynard got a base line jumper form Johnson and a three-pointer from Christine Jarrett to make the score 7-2 with 1:44 left. Olivia Ferguson netted a three-pointer for Bay only to see Bethany Dobbins score inside for the Lady Tigers to make it 9-5 Maynard. Diaz hit one of two free throws late in the quarter to make the score 9-6 Maynard after one.
Complete game story in February 18 edition of PCDT in newsstands now!!