Junior Yellowjackets win district title
Thursday, February 18, 2016
Bay (24-4) raced out to a 12-2 lead after the opening quarter and never looked back as they went on to beat Armorel 55-19 to win the 1A-3 East junior district title last Wednesday in Bay.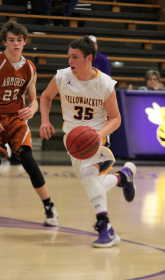 Dax Gibson scored on back to back fast break lay ups to make it 4-0 Bay before Armorel got two free throws from Jason Harper to make it 4-2. Aaron Jolly hit one of two free throws for the Junior Yellowjackets and Zach Hampton scored off the fast break for Bay to make it 7-2 with 2:06 left. Jolly scored inside for Bay and Gibson canned a three-pointer late in the quarter to give Bay a 12-2 lead after one quarter of play.
Full game story in February 18 edition of the PCDT!