Wildcats need overtime to advance at district tourney
Thursday, February 18, 2016
Trumann (11-13) hit just enough free throws to hang on for a 47-44 overtime win over Highland in the boys' 4A-3 senior district basketball action this past Monday in Gosnell.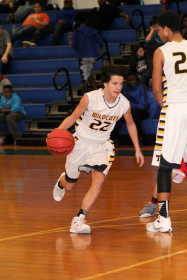 Brady Bates got the Rebels on the board first with a three-pointer as Trumann's Kelon Booker answered with a three-pointer to make it 3-3. Highland got consecutive baskets from Skylar Burton, Matt Price and Bates to increase their lead to 9-3 with 1:44 left. Jay Jones connected on three-ball for the Wildcats to make it 9-6 only to see Preston Gurley hit a jumper for Highland to give the Rebels a 11-6 lead at the end of one.
Complete game results can be found in the February 18 edition of the PCDT!