Governor Hutchinson speaks at Trumann Chamber Banquet
Friday, February 19, 2016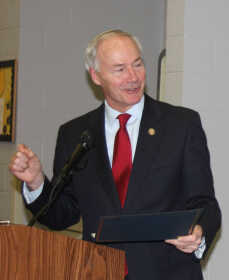 Governor Asa Hutchinson called Northeast Arkansas one of the economic engineers of the state while speaking to packed house at the Trumann Chamber of Commerce's annual banquet Tuesday night.
During his keynote speech, Gov. Hutchinson said his main focus as governor has been to promote the state both nationally and worldwide as a good place for businesses. One of the recent successes of this promotion was the announcement made last month that SIG Sauer, a maker of firearms and ammunition, would be opening a manufacturing facility in Jacksonville, Ark., creating 50 new jobs.
Gov. Hutchinson also praised Trumann Schools for its technology initiative that puts iPads and MacBooks in the hands of all its students and for being recognized as an Apple Distinguished Program two years in a row. "You have set the example," Gov. Hutchinson said. Last year, the Governor made it a priority to pass the first law in the nation requiring all public and charter schools to offer computer science courses. He commended Trumann Schools for the students it has who are taking computer coding courses for the first time this year, calling it an opportunity to grow the state's economy.
Gov. Hutchinson also spoke about last year's $100 million tax cut and reducing prison overcrowding with a $50 million investment in drug treatment courts and programs. Regarding the highway program, the Governor said there is a federal program that offers highway funds if state matches them. After looking at options, he decided this was not a time for new taxes to come up with the matching funds, so he has proposed taking $30 million of the unallocated surplus along with a portion of sales tax revenue on used cars to make up the matching funds. Gov. Hutchinson also wants a quarter of the surplus each year to go toward highways. All together, he said this would come to three-quarters of a billion dollars Arkansas is contributing to its highways, not counting the federal dollars, over the next ten years.
Trumann Mayor Barbara Lewallen spoke about the state of the city during the banquet. Several capital improvement projects are underway thanks to $2 million generated by bond refinancement voters approved last year. The Police Department has purchased five new patrol vehicles, new equipment, and is working on renovations. The Public Works Department purchased new equipment for drainage work, the water tower in the industrial park area is set for renovation when the weather warms up, and sewer lines are being extended west of Highway 63 in anticipation of development. The highway department resurfaced several streets, the city plans to resurface more, and a new traffic light is scheduled for the intersection of Hwy 463 and Speedway.
The Sims-Talbot Adult Education facility opened up last year with ASUN offering adult education classes. The mayor said the building has also been a site for businesses to hold meetings and training seminars. And it has served as the site of a workforce reentry program for parolees. Mayor Lewallen said of 35 people who have gone through the program since October, 12 have reentered the workforce.
Awards went to the following people:
*Excellence in Agriculture--Bob Southard of Lectri-Flo
*Educator of the Year--Vicki McClung
*Citizen of the Year--Bob Sowell
*Outstanding Chamber Member--Jason Stewart
*Outstanding Chamber Board Member--Ronnie Harrison
*Business of the Year--Southern Bancorp
*Community Service Award--Rev. Jeff Weaver
The Trumann Chamber board of directors for 2016 was also announced. They are: Neal Vickers (executive director), Ronnie Harrison (president), Scott Richards (president-elect), Linda Smith (Secretary), Rick Gillette (treasurer), Bob Sowell (ex-officio president), Barbara Lewallen (ex-officio), Myra Graham, Jonathan Higgins, Jason Stewart, Scotty Jones, Michelle Wood, Larry Rich, Shawn Sullivan, Lisa Young, Paul McAnally, and Corey Clairday.