Lady Hornets fall to Pocahontas in district quarter-finals
Thursday, February 25, 2016
Harrisburg (19-10) saw their season come to an end last Wednesday as they fell 39-31 in a hard fought battle with top-seeded Pocahontas (24-4) in the 4A-3 senior high district tournament being played in Gosnell.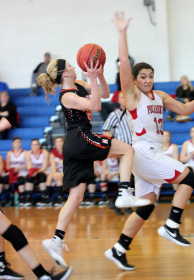 Kylie DeVries got the Lady Hornets on the board first with a jumper in the lane to make the score 2-0. Ashlyn Ellis tied the game at 2-2 with a stick back for the Lady Redskins. Abby Edwards drilled a three-pointer for Harrisburg followed by an inside basket from sister Keely Edwards to make the score 7-2 Harrisburg. Pocahontas got a jumper from Ellis to make it 7-4 only to see Harrisburg get a fast break lay up from Jessica Webb, a base line jumper from DeVries and a jumper from Cassie Armstrong to make the score 13-4 Lady Hornets with 1:22 left. The Lady Redskins got a jumper in the lane from Kate Junkersfeld, a three-pointer from Ellis and a three-ball from Junkersfeld to make the score 13-12 Harrisburg at the end of one.
Complete game story in February 25 edition of the PCDT!