Katie Ferguson leads Lady Yellowjackets to district title
Thursday, February 25, 2016
Katie Ferguson scored 36 points to lead Bay (36-3) to an 84-54 over Maynard this past Friday in the 1A-3 East senior girls district finals in Maynard.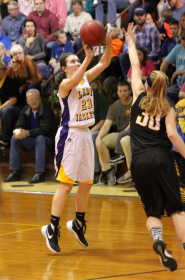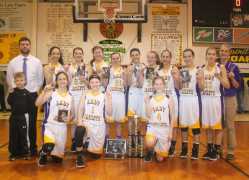 Maynard jumped out an early 5-0 lead as Jordan Weisenbach scored inside and Kacey Smith canned a three-pointer. Sarah Blackman got Bay on the board with a basket inside to make it 5-2 only to see Kacey Smith score inside for the Lady Tigers to make it 7-2 Maynard. Whitlee Layne scored down low for the Lady Yellowjackets, Joyce Johnson scored inside for the Lady Tigers and Layne netted a jumper to make the score 9-6 Maynard. Kaylee Smith scored inside for Maynard before Layne drilled a three-pointer from the right wing and Ferguson hit back to back jumpers making the score 13-11 Bay with 2:14 left in the quarter. Kacey Smith scored in the paint for Maynard before Bay got a three-pointer from Layne and an old-school three-point play from Ferguson followed by a steal and lay up to make the score 21-13 at the end of one.
Full article in February 25 edition of PCDT!