Bay swarms Armorel for 1A-3 East district title
Thursday, February 25, 2016
Bay (30-7) had four players in double figures led by Tyler Pritchett with 18 points as the Yellowjackets jumped out to a 13-0 lead over Armorel (14-11) before going on to a 71-50 win capturing the 1A-3 East senior high district championship this past Friday night in Armorel.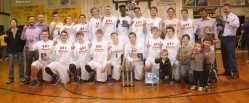 Bay got back to back baskets from Robert McFadden and Pritchett to start the game making it 2-0 Bay. Jonathan Crain added two free throws, Dustin Utley had a steal and lay up and Crain scored inside to make it 10-0 Yellowjackets. Utley added two free throws and Pritchett hit a base line jumper as Bay increased their lead to 13-0 before Armorel got two free throws from Neiko Sorrentino and a three-pointer from Weston Hollingsead to make the score 13-5 Bay. Trevon Tate hit two free throws for the Tigers to make it 13-7 only to see bay get a three-point play from Crain, a jumper from Taylor Layne and one of two free throws from Utley to make the score 19-7 Yellowjackets. Sorrentino got a stick back basket for Armorel and Matthew Willard answered with a stick back for Bay to make the score 21-9 Bay at the end of one.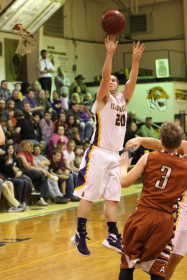 Full game story in February 25 of PCDT!