Lady Warriors fall to Earle in district championship
Thursday, February 25, 2016
EPC (19-9) never got closer than nine points after the first quarter as the Earle Lady Bulldogs (19-9) captured the 2A-3 senior high girls district title with a 54-44 win over the Lady Warriors this past Saturday in Marked Tree.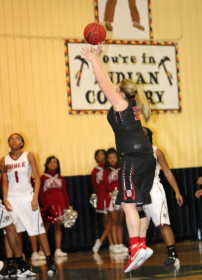 Michelle Smith opened the scoring for Earle with a stick back basket to make it 2-0 Lady Bulldogs before Becca Bishop got a lay up for EPC to make it 2-2. Veronique Sanders canned a three-pointer, Aundrea Allen scored off the fast break and Laderyca Childs drilled a three-pointer as Earle took a 10-2 lead with 3:22 left. Krystan Vornes hit one of two free throws for EPC to make it 10-3 only to see Earle get a three-pointer from Janae Bowers and a basket off an offensive rebound by Taklia Baker to make it 15-3. Jaleigha Garrett netted a three-pointer for the Lady Warriors with 23 seconds left to make the score 15-6 Earle after one.
Pick up a copy of the February 25 PCDT for full story!