Rye talks running for state representative
Thursday, February 25, 2016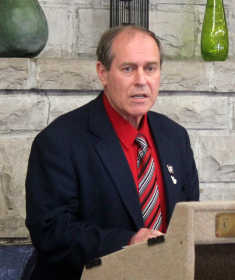 Johnny Rye, Jr., candidate for the District 54 seat in the House of Representatives, spoke to the Trumann Lions Club Wednesday on one of his final campaign stops before the primary election.
Rye grew up in the Black Oak area and went to school and graduated from Marked Tree. He attended Arkansas State University before going to work for his father in the family business in 1977. Rye and his wife have one daughter.
Rye was elected to the office of Poinsett County Assessor in 1990 and has held that position for the last 26 years. "It's been an honor to serve the community for the last 26 years. I've never forgotten how I was elected, and I want to thank you all for allowing me to serve so long," Rye said. Rye served for 20 years on the state assessors' board and served as president at one time.
Rye said he is conservative and will not only work to get good legislation through but will also be on the lookout for legislation that might not be good to have. "Most of the citizens can't watch everything that goes on in Little Rock, but I can," Rye said. "I will be your voice for District 54."
Issues that Rye cited as important in his campaign were roads and education. "We need to make sure our roads are safe to travel on. Not only our city roads but our highways. The new I-555 will have a big impact on this area, making it easier for everyday travel and travel for agriculture," Rye said.
Education is a key factor, according to Rye. "We have to make sure our schools are offering the best educations they can and that funding is always there for them," Rye said.
Economic development is another area Rye wants to see grow. "We want to attract new businesses to our area and stay on top of any potential businesses that show an interest in our district," Rye said.
Rye said most folks think if he gets elected, he'll just go off and do what he wants, but he said that is not the case. "I want to know what's on your mind and if you like or dislike the legislation as it comes along. I'll listen to the needs in areas as it arises. Whether that need is for the city, medical, or economic, I want to help," Rye said.
"The main thing is you!" Rye said. "I will be proud to represent you in the district, and I would appreciate your vote."