State Rep. candidate Wagner speaks about goals
Thursday, February 25, 2016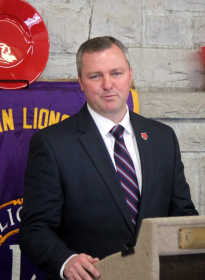 Wes Wagner, a candidate for the State Representative District 54 seat, spoke to the Trumann Lions Club recently about his goals if elected.
Wagner is a 1997 honor graduate of Manila High School and a 2001 graduate of Arkansas State University. He attended Law School in Oklahoma. Wagner is married and has two children.
"I decided to come back and work in the law firm with my dad," Wagner said. Wagner said he could have gone to a bigger firm and made more money, but he made the choice best suited for him and his family. "There is still a lot of work in the small towns that keeps me busy." Having been in practice for ten years, Wagner is a deputy prosecutor in Mississippi County and works with the Lawrence Group in Wilson. "Dad has retired, and now I run the office. He taught me everything I know, but not everything he knows, so I still learn something new every day," Wagner said.
Wagner talked about three things that are important subjects he will work on if elected. First is the industrial boom in this area. He was a co-sponsor on the legislation to get Big River Steel back in the area. The new factory and all the subsidiary businesses it will bring will have a major impact. Tensions with Nucor were high at the beginning when Big River announced it was coming, but things have since smoothed out. "I worked hard to be a uniter and not a divider on this. All the surrounding communities will benefit from this," Wagner said.
The agricultural industry is also important to Wagner. Arkansas is the number one producer of rice per acre in the United States, and possibly in the world, and Wagner said Mississippi County will have to take advantage of that. "Cotton has been king in this area for so long, but the last couple of years have seen bad crops. We will have to adapt our fields and be prepared to grow grain," Wagner said.
Wagner said better education is also a must for the area. He talked about the excellent education being given at Trumann School District and said the new elementary school will be beneficial to the younger kids. Manila and Leachville are getting new schools as well, he told the group, with lots of funds coming back to the area for these. "These new schools have better technology and resources that will put our kids ahead of the game in education," Wagner said.
Wagner took a few minutes to talk about clean-ups in all the small communities. "I think each community should work hard on beautification committees to make their towns look better. Like the old saying goes, you have to go from the ground up," Wagner said.
Wagner also talked about the infrastructures of the cities. "I know some are having new water and sewer systems installed, and others will have to deal with these in the near future. We have to make sure things are secure for the future, but we have to make sure the infrastructure is sound now too," he said.
"I've run a clean and positive campaign, and I think that is the way it should be. I think I'm the best qualified for the position and will advocate for you the best I can in Little Rock. I know Trumann has to compete with Jonesboro, and I think your voice should be just as loud as theirs in Little Rock," Wagner said.
"I will work hard and use my experience and knowledge to serve you if elected. I would greatly appreciate your vote," Wagner said.