Tyboogies to host singer-songwriter nights
Thursday, February 25, 2016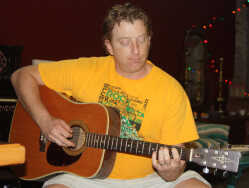 Keith Forrester has always wanted to have a venue where people had the opportunity to perform original material. Forrester said now that his restaurant Tyboogies is going on two years of being open, it feels like the right time to start a singer-songwriter night.
"Tyronza is not a dull place at all, but other than the Stars and Stripes, there's no entertainment," Forrester said. He remembers when there used to be square dancing and street dancing to live bands in Tyronza back in the 1980s and wants to bring some entertainment back as well as offer a creative outlet for original material. "Now, there are so many things for kids to go out and do, but there's no creative outlet. Our setting in Tyronza fits what we want to do," Forrester said.
On the first Tuesday of the month, starting in March, Tyboogies will give people the chance to perform original songs in a welcoming environment. It's not a place for cover songs or for bands who are looking to make money and get famous. Forrester said the singer-songwriter nights would be a place where people who are interested in music can perform their own material and that it would be a fun way to bring some entertainment into town.
"We just want to give people the opportunity to overcome their fears in life," Forrester said. "Standing up in front of people is scary. We want to provide a place with no fear. We just want to give people an outlet to get what's in the heart out. Music is an emotional connection."
Forrester's father played guitar and his grandmother played piano in church, but he didn't really get into music himself until his 20s when he learned to play guitar. He has always loved music and writing though. Since learning to play, Forrester said he has written lyrics and music for about 20 songs and has written many more which are just lyrics or tunes only. "I was able to put tunes with words. I've always been a storyteller," he said.
And storytelling is something he also hopes will be an important part of the singer-songwriter night. "I want people to tell the story about the song they've written because every song has a story. That's something that's always interested me," Forrester said.
Forrester said anyone is welcome to perform whether they want to play music, sing, or just read a story. The goal is to offer a friendly, family atmosphere and a creative outlet. To break the ice, Forrester plans to perform at the first singer-songwriter on Tuesday, March 1, at 7 p.m.
The singer-songwriter night is in the beginning stages, so Forrester said he plans to hold them once a month for now on the first Tuesday. The music will go on for about an hour each night or as long as there's an interest in the audience. In the future, Forrester said he would love to see it develop into something that could be shown on public access. But for now, offering a place for people to pour their hearts out through music is what it's all about. "Having a place where people have an outlet for original material is something I've always wanted to have," Forrester said.
Anyone interested in signing up can contact Forrester at 870-487-2054 or on the Tyboogies facebook page.