Bobby Benson
Tuesday, March 1, 2016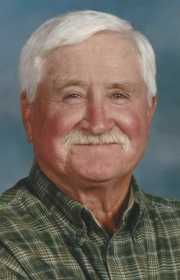 TRUMANN - Mr. Bobby Lee Benson, 82, of Trumann went to his heavenly home Saturday, Feb. 13, 2016. Mr. Benson was born in Harrisburg, Ark., and lived most of his life in Trumann. He was a farmer and a carpenter, but his favorite job was for the last 6 years as a kindergarten custodian for the Trumann School. He loved to hunt and fish and spend time with his family and was a member of Maple Grove Baptist Church. Mr. Benson was preceded in death by one grandson, Zach Wilson, one sister, Juanita Holt, three brothers, Neal Benson, Leon Benson and W.C. Benson, Jr., and his parents W.C. "Bill" and Bernice Avery Benson.
Mr. Benson is survived by his wife of 35 years Carolyn Hall Benson of the home; two sons, Bobby Benson and wife Deloris of Trumann and Bart Benson and wife Ann of Trumann; two step-sons, Joey Wilson and wife Melody of Trumann and Greg Wilson and wife Melani of Trumann; two sisters, Wanda DeFord of Trumann and Sharlene Flowers of Clarksburg, Tenn., one brother, Gene Benson and wife Shirley of Trumann; five grandchildren.Bo (Kalee) Benson, Bobbi (Tyler) Hydrick, Katie Benson, Bridget (Josh) Barnes, Taylor Wilson; three great-grandchildren, Kiley, Braxton and Parker Barnes
Funeral services were Feb. 17 in the chapel of Thompson Funeral Home with Rev. Darrel Miller and Ronnie Benson officiating. Burial followed in Holly Springs Cemetery near Harrisburg.
Pallbearers were Farrel Byers, Bobby Walton, Daniel Miller, Dale Holt, Tony Holt and Ricky Wright. Honorary pallbearers are all his friends that supported him throughout his long illness.
Lasting memorials can be made to Flo and Phil Jones Hospice House, 1148 E. Matthews Ave Jonesboro, AR 72401.
An online register book can be signed at www.thompsonfuneralhome.net.