Edna Mooneyham
Tuesday, March 1, 2016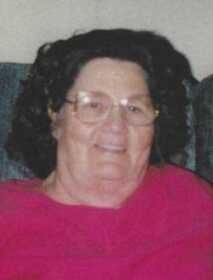 TRUMANN - Mrs. Edna Mooneyham of Trumann died Friday, Feb. 12, 2016 at St. Bernards Medical Center in Jonesboro at the age of 82. Mrs. Mooneyham was born Sept. 17, 1933, in Water Valley, Miss., and lived most of her lifetime in Trumann. She was a housewife and of the Pentecostal faith. She was preceded in death by her husband, James Junior Mooneyham; one son, Billy Wayne Mooneyham, one sister, one brother, and her parents, Ben Lee and Nancy Jane White Ross.
She is survived by one daughter, Edna Ann Mabry of Trumann, one son, Roger Dale Mooneyham and wife Loretta of Trumann, one sister, Betty Furman of Conway, Ark., one brother, Charles Malone Ross of Bay, Ark., 6 grandchildren, 18 great-grandchildren, 2 great-great-grandchildren.
Funeral services were Feb. 16 in the chapel of Thompson Funeral Home with Bro. Alfred Goodwin officiating. Burial followed in the Mt. Pisgah Cemetery in Jonesboro.
Pallbearers were Ray Mabry, Shane Mabry, Cody Mabry, Jack Ramsey, Michael McCorkle and Lee Smallwood. Honorary pallbearers will be Doug Mooneyham, Brain Mooneyham and Nickey Rhoads.
An online register book can be signed at www.thompsonfuneralhome.net.