Warriors down Walnut Ridge in regional opener
Thursday, March 3, 2016
EPC got off to a slow start and trailed after the first quarter. The Warriors righted the ship in the second quarter as they went on to beat Walnut Ridge 75-54 in the opening round of the 2A North Regional Tournament in Imboden.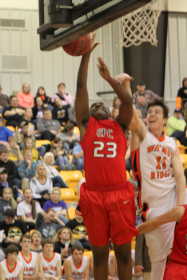 Walnut Ridge jumped out to a 6-0 lead on back to back three-pointers from Martin Crisler before J'Sebian Brown drilled a three-pointer for EPC and Xzavier Reed got a stick back basket for the Warriors to make it 6-5 Bobcats. Spencer Wilson scored inside for Walnut Ridge, Brown hit a jumper for EPC and Wilson scored back to back baskets in the paint for the Bobcats to make the score 12-7 Walnut Ridge with 2:20 left. Brown connected on another jumper for EPC only to see Kenzie Flippo make a three-pointer for the Bobcats as Wilson scored down for Walnut Ridge to make it 17-9 Bobcats. Clay Malone canned a three-ball from the left corner for EPC to make the score 17-12 Walnut Ridge at the end of one.
Pick up a copy of the March 3 PCDT for full story!