ICC stuns Lady Yellowjackets with 40-foot buzzer beater
Thursday, March 3, 2016
When Bay sophomore Bailey Bowers dropped in the second of two free throw attempts with 2.6 seconds showing on the clock in Friday night's1A Regional Tournament semifinals, it looked as though the Lady Yellowjackets had secured a one point victory over Izard County Consolidated and a trip to Saturday night's championship game.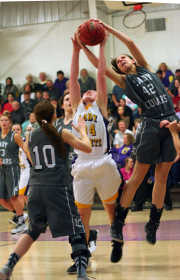 But after Bay Coach Braden Watson called a timeout to set his defense, ICC inbounded the ball, lofted a clean pass to Sam King who turned and slung a desperation heave from 40 feet away that found nothing but net as the buzzer sounded, giving the Lady Cougars an improbable and shocking 62-60 win over the host Lady Yellowjackets.
Full article in the March 3 edition of the PCDT on newsstands now!